Holiday season in Europe!!!
Maybe some of you even consider to spend their time in Southern Africa.

We can highly recommend to visit the Victoria Falls in either Zambia and/ or Zimbabwe. The falls are amazing and worth a day trip. The temperatures are not too high and there is no rain at all at the moment. So tourists can handle that climate easily right now.

Medical emergency
Of course we do not hope that any visitor to Southern Africa will experience a medical emergency. But it is possible that tourists might be suddenly in danger and urgently are in need for professional help.
In such a case it would be very comforting to know that there is an air and ambulance service available to help.
ACE is based in Zimbabwe
The medical emergency service, that sends their rescue teams via air and land, is called ACE and is based in Harare/ Zimbabwe.
ACE owns many emergency vehicles, similar to those we know from Europe, and some planes. Three of their planes can land where it is impossible for bigger ones. So the doctors on board can even help at hardly accessible places in case of an emergency.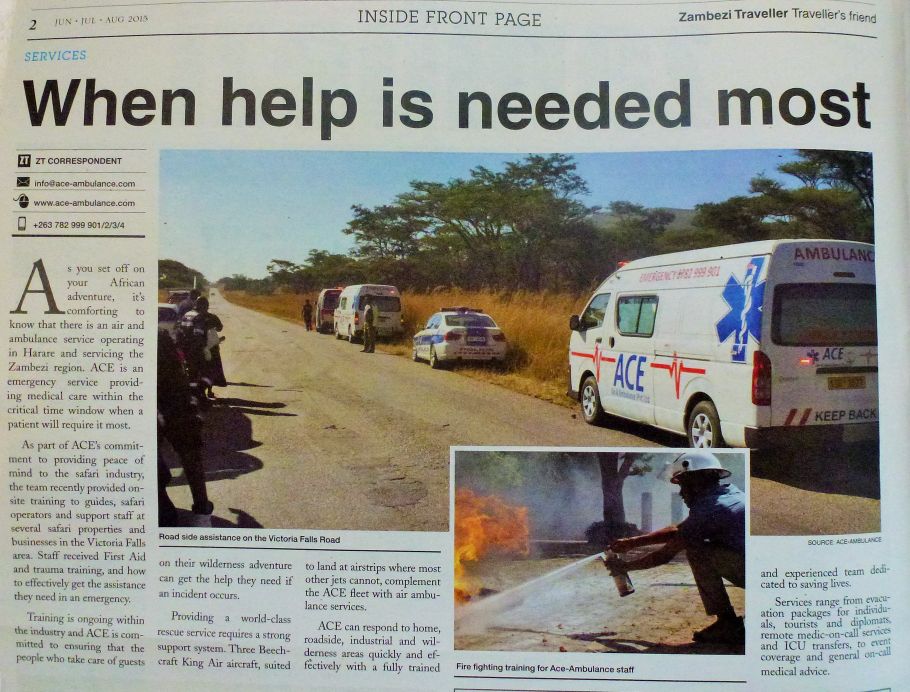 Best training to help
Doctors, paramedics, nurses, pilots and call center dispatchers are very well trained and have a profound knowledge about first aid and how to help best in the important first minutes after an accident has happened. Their medical gear is modern and updated on a regular basis.
ACE offers trainings for guides. So they can quickly help until a doctor takes over. Guides are trained in First Aid, inital treatment of fractures, general procedure in case of an emergency and a lot more.

The team of ACE is available 24/7 to be able to help whenever their support is needed.